Boostmysale b2b

an introduction
BoostMySale gives B2B businesses the robust capabilities expected of an enterprise-class B2B ecommerce platform, including the ability to provide the same easy and information-rich shopping experience as a B2C website.
With BoostMySale, ecommerce is seamlessly integrated with your back-end operational systems, including order management, ERP and CRM. You can even support web stores, in-house sales, distributors, manufacturers, brick-and-mortar stores and channel partners all from a single platform.
BoostMySale Enterprise edition is more tailored for large online retailers with a substantial number of transactions, solid security considerations, ample room for scalability, and many rich features and functionality.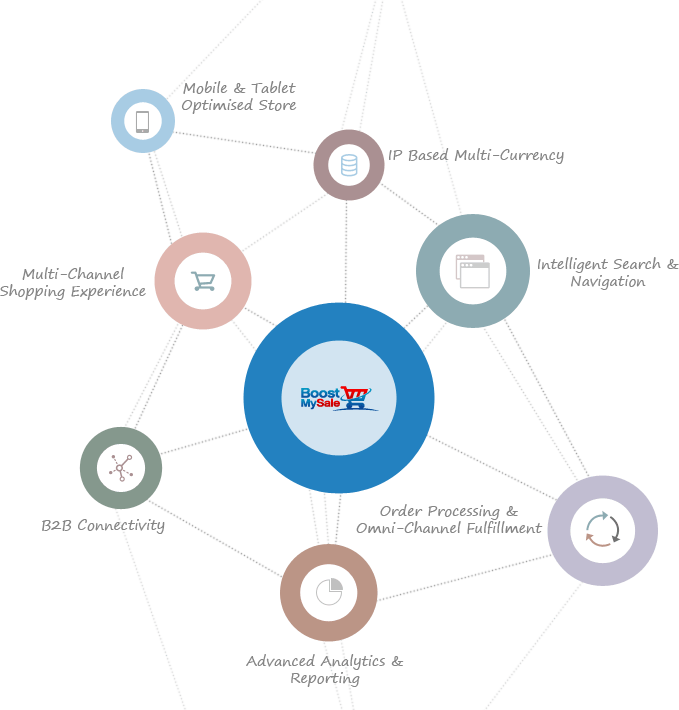 Boostmysale b2b -
Specific benefits
Automate & Streamline
your business
Automates, streamline and effectively manage the complexity of B2B transactions and thereby also bring transparency in the process.
Book orders online from the B2B portal instead of deploying executives to get sales orders. Thus you can now effectively sell 365 days * 7 days * 24 hours and not depend on the sales team to go and pick up orders. This will remove reduntant people and reduce costs.
Discover new markets and expand network
New and potential end-retailers will be able to login and buy in bulk, using the same distribution system. Capturing new customer segments and market opportunities will lead to an increase in revenue.
Empower distributors with flexiblity and convenience
Strengthen relationship with distributors by allowing them omni-channel access to the portal. Allowing them to book orders at any point through the tab, mobile or any equipment of their choice allows them full flexibility and convenience.
Make time to marketing nil with instant communication
Empower distributors by getting information to them much faster. Imagine, you launch a new product and you add it to the portal. The dealer/distributor gets access to it instantly and is able to book his quantities way in advance. Thus time to market is virtually nil.
Personalised customer management
One can specify individual margins for each 'customer' so the distributor/retailer knows what it will cost him eventually and if you run an offer/discount on any product, it would be visible to him straightaway. One could even send automated newsletters to inform them in a jiffy.
Be one step ahead of the game
Delivers the capabilities that organizations need to drive revenue, gain competitive advantage and turn market shifts into business opportunities
Providing Omni-channel convenience
Enables business enterprises to start and manage their e-commerce business across web, mobile, social and in-store in an efficient way. Delivering this omni-channel convenience also leads to increased customer satisfaction.
Analyse your business in seconds
With real time data, numbers, intuitive sales and other reports available in real time one can analyze and take informed decisions instantly.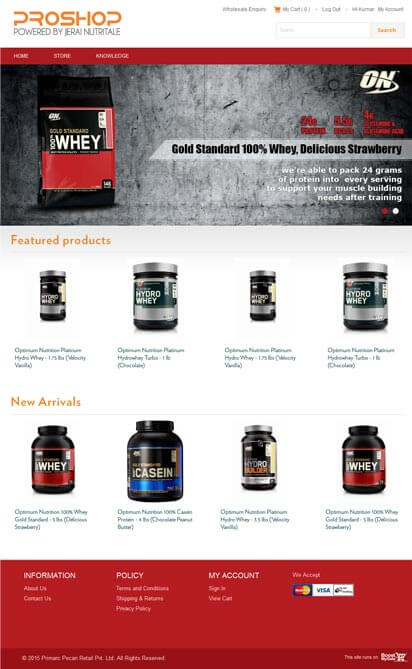 Case Study
Proshop
One of our BoostMySale B2B customer's is a platinum seller on Amazon (does online sales of nearly 4-5 crores a month) of health and nutritional products. There are 27,000 gyms in the country and each of these gyms buy his health and nutritional products which in turn they sell to their end clients.
Our B2B portal has listed all their health and nutritional products. We have given access to each of these gym owners who apply for a login. After the team approves them, they log in and are able to see the entire range of products online along with their respective prices and margins (which is set by the principal). Subsequently they are able to buy the products in bulk and check out. They specify their shipping address and the entire process works just like how it would for B2C.
Small sellers can buy via Credit Card - one can even charge a 2% convenience fee for the same as there is also option to offer credit. The workflow is easily modifiable as per the client's requirement but most importantly it is so simple, that only one person handles the entire system!
They are creating PDF's to upload against the product, so gym owners can take out their own printouts and stick on their gym notice boards for their end clients to read!
Our client is initially targeting only 3000 gyms in the first year, but we see this growing considerably over the next few years.
meeting the challenges of delivering an
effective
b2b ecommerce solution
Many of the capabilities required for successful B2C multichannel e-commerce are also critical in the B2B business. However there are a number of challenges that are unique to the B2B e-commerce space and are addressed by BoostMySale B2B.
Manage Simply the Complexity of B2B Processes & Transaction

B2B commerce entails a level of complexity across a number of dimensions that must be efficiently managed. B2B account management tends to be more complex than in the B2C world and requires the ability to address different types of users with different needs and multiple user accounts with multiple roles. BoostMySale gives account managers intuitive, rights-based tools to manage accounts and related cost centers, contracts and budgets.

Complete Multichannel Business Model and Markets Integration for Holistic Customer Experience

It's not enough to offer the ability to simply support multiple channels. All channels including online, mail-order catalogue, call centre, etc. must be "aware" of the other channels and be integrated to deliver a holistic customer experience. BoostMySale not only synchronises all channels and marketplaces but also ensures processes and customer interactions are optimized across all channels and touch points such as online stores, mobile, affiliates, kiosks, chat, etc.

Single Window Interface to Manage all B2B Activities

BoostMySale integrates products, multiple supplier catalogs, inventory, contracts, customer information, contents and orders onto a single solution and which can all be managed from a single window dashboard.

Product Content Consistency with Real Time Updation across Channels

Consistent, accurate and rich product content is the foundation of a successful B2B e-commerce website. With BoostMySale content production processes fit the multichannel paradigm to ensure that up-to-date data and content consistency is available across all channels.

Streamlining Order Processing, Centralised Inventory Management and Fulfilment Services

BoostMySale manages multiple warehouses for fulfilment by allowing setup of inventory across multiple warehouses. Orders from a given location can be fulfilled from the nearest warehouse through a configurable order routing mechanism. Centralised inventory management system is built for all channels and keeps track of inventory in real time.

Intuitive Reporting Buyer-centric B2B Merchandising Management

With BoostMySale's intuitive and smart reports one can analyse the requirement of B2B buyers i.e. page views, abandoned cart, etc.) and help them find and purchase the exact products they need with promotional offers, customized landing page, etc.
BOOSTMYSALE B2B - SOME SALIENT FEATURES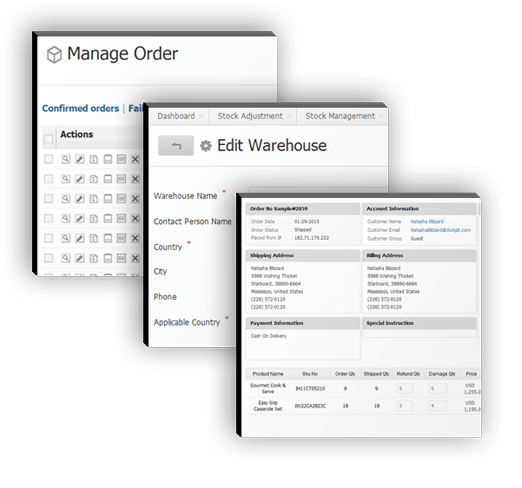 B2B Order Management and Omni-Channel Fulfilment
Centralized order management capabilities to enable efficient and flexible omni-channel fulfillment options like 'buy online pick up in store' or 'buy'.
Channel-agnostic order views and cross-channel order capture cum processing improves operational efficiency.
Multi-warehouse support.
Fulfillment orchestration for mapping fulfillment routes by country, warehouse and stock.
B2B customers can track their order history, schedule and return orders, split orders for partial delivery as well as ship to different addresses.
Vouchers, product recommendations and promotions ensures efficient marketing campaigns and cross-selling offers.
Returns and refunds management for enabling online return in store scenarios.
Integrate B2B commerce with the offline inventory by providing a generic API based integration with ERP & POS systems.
B2B Multi-Channel Marketing and Sales
Automated pricing management system allows seamless updating of product prices across online selling channels.
Multi-currency pricing for different countries (based on IP tracking).
Complex B2B pricing models and allow select customers special prices, terms and credit limits.
Easily manage sites with multiple languages, currencies, brands, taxes and other regional requirements.
Complex, multidimensional products including routine, repeat and bulk ordering capabilities.
Faceted search and navigation along with transparent product comparisons allows increase in conversion rates.
Single interface to control multiple listings across channels.
Complete taxation customization based on shipping and billing addresses.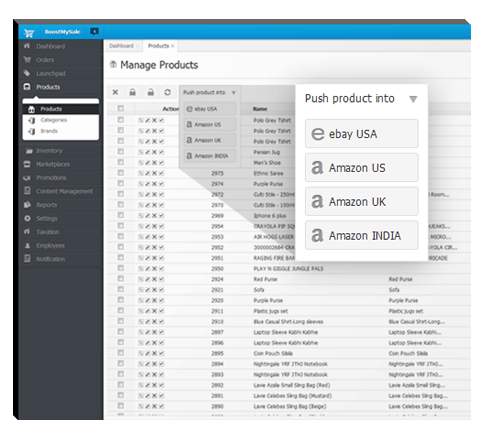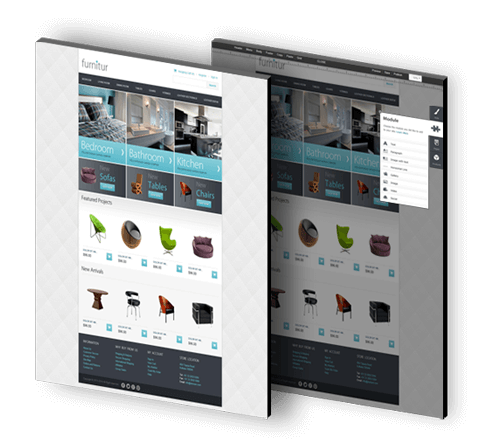 B2B Content and Catalogue Management
Centralized content management ensures data consistency.
Represent complex and specialized products accurately and effectively.
Provide customized product catalogs, prices and offers.
Built-in digital asset management enriches and manages the product descriptions with high-resolution images and videos.
Native integration consolidates and manage all product content and attributes across all channels.
Easy integration with back-office systems and processes for seamless transactions and relationship management.
Integrated web content management creates multiple micro-sites for bigger B2B accounts.
B2B Technology & Security
Scalable service-oriented architecture ideal for integration with existing systems.
Password protect options to restrict access to authorized customers and partners. Specific organizational requirements such as multiple roles, delegated user administration and organization-specific workflows can be set to specific needs.
Robust network of architectural setup & hardware firewalls with Level-1 PCI compliance.
Integrate your system with any RESTful-capable system through the set of extensible web services.
Can be deployed as per client's specific needs - on premise or on-demand in the cloud.
Completely cloud optimized platform built with enterprise security standards.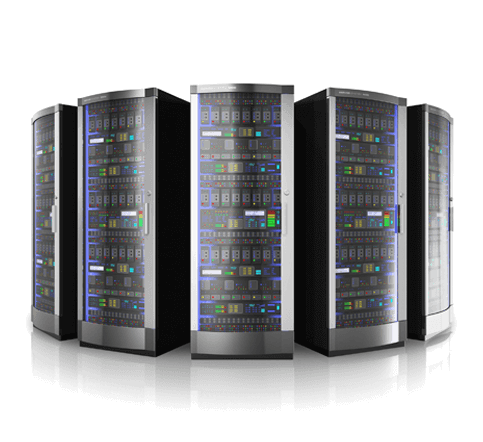 partnership


AWARDs

Membership